Posted by The Knob Shop on 12th Jul 2019
2019 Kitchen Hardware Trends
Just like fashion, decorating and designing trends are changing constantly! This can include what colors to use, what styles cabinets are most appealing, what flooring ties the room together. What is often overlooked is what style cabinet hardware! This tiny detail that is often forgot about until the end could "make or break" your room! So, what is in this year?? Let's take a look :)
Since the kitchen is the most popular room in most houses and clients tend to spend the most time making sure it is perfect, I will focus there.
Hardware Finishes
Matte/Flat Black: The words matte and flat are used interchangeable when it comes to finishes. They both mean the black looks flat; there is no glossy or shiny appearance. This was very popular in 2018 and continues to take over 2019! Black is a powerful color and gives the kitchen a classy sophisticated feeling, especially with a matching faucet!
Gold: Clients will go for this finish if they want a classy luxurious look. It is very contemporary and can be used on either white cabinetry or dark cabinetry for added contrast.
Champagne Gold/Brushed Brass: This is perfect for clients who want the gold feeling but more soft and elegant. The metallic finish matches great with white cabinet doors and countertops and adds a sense of feminism.
Weathered: The weathered finish is very trendy with the farmhouse-style because it adds a warm charm to the kitchen. A weathered finish can be in nickel, bronze, brass, etc...
Polished Brass: Who would have thought polished brass would make a comeback?! It is very popular and can be used in a variety of way.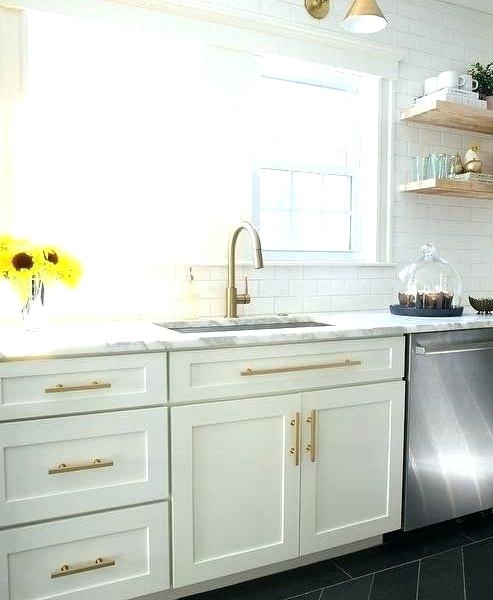 Hardware Styles
Mixing Hardware: A very common trend this year is mixing hardware styles! You can mix knobs and handles in a variety of way! You may want all drawers to have handles and all cupboards with knobs or have your upper cabinets with one style and lowers cabinets with another. If you want to try something bold some clients mix finishes!
Oversized Pulls: Oversized cabinets and drawers are very popular because they add a sense of elegance to your kitchen, especially with dark cabinetry. It is also very functional!
Refrigerator Handles: No more ugly handles to open your refrigerator! It is very trendy to get large appliance handles that are the same finish as the rest of your cabinet hardware!